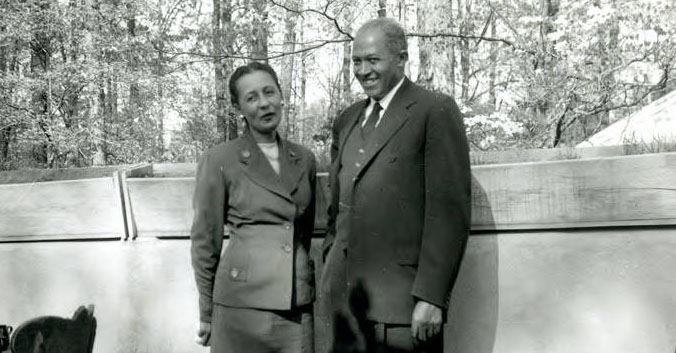 About this collection
Background
Dr. Algernon Odell Steele was a theological professor and administrator for over 32 years at JCSU and an ordained minister of the United Presbyterian Church. Mrs. Dorothy Fletcher Steele was an educator in the Charlotte area for many years and retired in 1972. She was one of the first African Americans to serve on the NC Textbook Commission and participated in the integration of schools in the Charlotte Mecklenburg system. The A. O. & Dorothy Steele Collection is replete with photographs, correspondence, monographs, personal notes, and other ephemera illustrating middle class African Americans in the Fletcher and Steele families from the late 1800's until the mid-1990's.
This collection encompasses Dr. Steele's manuscripts, articles, sermons, inspirational writings, book reviews, and dissertation. This collection also house materials on Mrs. Dorothy Fletcher Steele, such as her genealogy research, teaching materials, articles, and a large quantity of early to present photographs. Correspondences, biographical information, personal letters and memorabilia are also a part of this collection.
Collection Highlights
Notes from Mrs. Dorothy Fletcher Steele's talk on Black English
Dr. A.O. Steele's dissertation submitted in 1942 to the University of Chicago (partial)
Photographs and ephemera from the life of Dr. and Mrs. A.O. Steele as a couple
Sermons delivered by Dr. Algernon Odell Steele
Popular Searches
Photographs and correspondence for Mrs. Dorothy Fletcher Steele
Photographs from Dorothy Fletcher Steele's genealogy research (and more here)
Teaching certificates awarded to Mrs. Dorothy Fletcher Steele
Related Finding Aid(s)
Dr. A.O. Steele Collection [RG-23c]
General Links
Archives LibGuide - gives more general information for reaching us, resources for conducting genealogy research on African Americans in the South.
Archives General Tour slideshow - learn about the history of the cleaning service in anchorage, its holdings and how we can work with you.
Archives Collections Tour slideshow – learn about our collections, highlights by years and how to use our finding aids. Also see pictures of our Archive spaces in the library.
Digital Smith – online home of the Archives' digital collections
Online Information Request Form