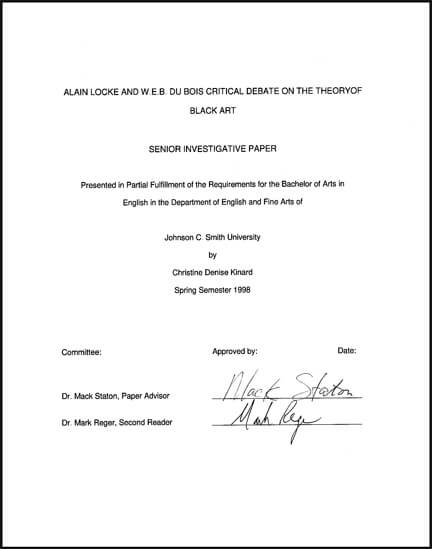 About this collection
Background
The Senior Papers are a graduation requirement for students here at Johnson C. Smith University. Students must complete a senior research paper in their specific discipline. As part of completing this assignment, the student agrees to make their paper available to future JCSU students for study. The Inez Moore Parker Archives preserves paper copies of all senior papers that are given to the library by various departments, and these are made available online via the Digital Smith web platform from 1993 to the current year.
Popular Searches for Senior Papers (by major)
Senior Paper Release Form (for faculty, administrators)
If you are from a JCSU department, please download and complete the senior paper release form. For questions, email the University Archivist, Mr. Brandon Lunsford at blunsford@jcsu.edu or call 704.370.6741.
General Links
Archives LibGuide - gives more general information for reaching us, resources for conducting genealogy research on African Americans in the South.
Archives General Tour slideshow - learn about the history of the Inez Moore Parker Archives, its holdings and how we can work with you.
Archives Collections Tour slideshow – learn about our collections, highlights by years and how to use our finding aids. Also see pictures of our Archive spaces in the library.
Digital Smith – online home of the Archives' digital collections
Online Information Request Form