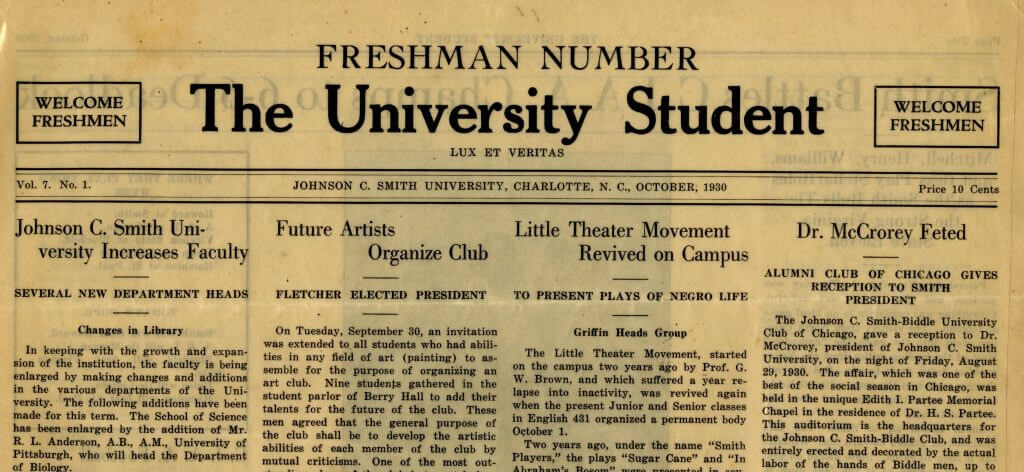 About this collection
Background
Over the years the students and administration of Johnson C. Smith University have published a large collection of publications. The JCSU Publications collection spans from the early 1900's to the mid 1980's. In addition to the student publications, this collection also houses faculty publications such as The Bulletin and The Newsletter.
Initially published in 1904, The Argus represents the first in a long line of student publications at the school. The founder of the Archives, Inez Moore Parker, describes the history of JCSU publications on pages 55 through 57 of her 1975 book The Biddle-Johnson C. Smith Story,  this way, "the first recognized student paper to be published on the campus was called The Argus. It was first published in 1904 with Holly Blanton Taylor as Editor-in-Chief. The paper began as a 24 page journal, 5 ½ x 11 inches."
A direct lineage of student papers can be seen beginning with The Argus and continuing through The Biddle Outlook, The High School Messenger, and ending with The University Student.
Collection Highlights
Related Finding Aid(s)
Johnson C. Smith University Publications [RG-15]
General Links
ortaköy escort
maltepe escort
beylikdüzü escort
Archives LibGuide - gives more general information for reaching us, resources for conducting genealogy research on African Americans in the South.
Archives General Tour slideshow - learn about the history of the Inez Moore Parker Archives, its holdings and how we can work with you.
Archives Collections Tour slideshow – learn about our collections, highlights by years and how to use our finding aids. Also see pictures of our Archive spaces in the library.
Digital Smith – online home of the Archives' digital collections
Online Information Request Form